Transfer Students
Attending Indiana Tech isn't just about deciding where to finish your degree. It's about joining a community of people who will help you achieve your goals, support your personal interests, and serve as lifelong friends.
Join our Warrior family today by completing these simple steps:
Complete your free online application.
Submit your final official high school transcript.
Submit an official transcript from each college or university attended.
For an overview of the entire transfer process, please view our transfer checklist.  All documents can be sent electronically to admissions@IndianaTech.edu or mailed directly to:
Indiana Tech
Office of Admissions
1600 E. Washington Blvd.
Fort Wayne, IN 46803
Transferring Your Credits
You can meet with our transfer counselor to see how your credits from previous institutions can transfer in to Indiana Tech.  Schedule a Transfer Tuesday appointment or a campus visit, and be sure to send in your college transcripts a few days in advance to ensure your credit evaluation can be reviewed on the spot.  Visit our Transfer Credits page for more information on our transfer credit policies.
Transfer Scholarships
Learn more about your transfer scholarship options, ranging from $4,000-$15,000 per year, by visiting our Transfer Undergraduate Scholarship page.
Student Story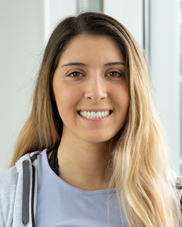 Felicia Ruffolo
B.S. Exercise Science, class of 2022

Being the first person in my family going away for college it was a struggle to find help with the transferring process. Starting my first year of college, I decided to go to a local community college back at home in Algonquin, Illinois to save up on transferring to a university. I wanted to further my education and graduate with a bachelors in what I saw my future career in. During my search for universities the one place that stood out to me the most was Indiana Tech. After applying, I was assigned to an amazing lady named Brook Ringenberg. Mrs. Ringenberg helped with every step of the way with all the documents I needed to transfer into Indiana Tech. Right away I felt welcomed into the school and knew my experience at Tech was only beginning. Already being familiar with Indiana Tech because of some of my close friends attending the college. I already felt at home and along the way made more friends that I could consider a second family at Indiana Tech. Being a student at Indiana Tech has made a huge impact on my life decision with my future career. Not only is it about graduating with a degree but along the way having a positive community and staff motivating you to achieve your goals has made my first year amazing.
Have additional questions?
How does Indiana Tech define a transfer student?
We define a transfer student as anyone who has enrolled in a college course(s) after graduating from high school, regardless of length of time at that institution.
Is there a deadline for application for admission?
There is no application deadline.  Indiana Tech has a rolling admissions process, so apply at any time and we will be in touch to walk you through the process.
Do I need to submit an ACT/SAT score report?
While ACT/SAT scores are not required for admission as a transfer student, you can submit your score reports to be used for scholarship determination.  Electronic score reports can be submitted to admissions@IndianaTech.edu.
Can I submit an unofficial college transcript?
Yes, you can submit an unofficial college transcript to start with an admission decision and transfer credit evaluation.  The final official transcript from each college attended is required to finalize your enrollment prior to the start of your first semester at Indiana Tech.
What is the difference between an official and unofficial transcript?
Indiana Tech requires that you request to have an official transcript be sent directly from the institution to Indiana Tech in order to finalize enrollment. Any transcript not sent directly to Indiana Tech from each institution is considered an unofficial transcript.  This can include transcripts from your online student account, or official transcripts sent electronically to you instead of to Indiana Tech.
I have already completed college courses through another college, do I have to send in my high school transcript?
Yes, we require your final official high school transcript, unless you have already earned an Associate or Bachelor's degree from a previous institution. You can reach out to your high school counseling office and have your final official high school transcript sent electronically to admissions@IndianaTech.edu or mailed to our main campus in Fort Wayne.
How long will it take for an admission decision and transfer credit evaluation?
Generally speaking, an admission decision can be made within a two-week time period from the submission of an application and necessary transcripts.  The decision is communicated to you personally via email, and a formal acceptance packet is sent via mail within that two-week time frame.  Transfer credit results typically take 48-72 hours to process, and are communicated via email to you when completed.
What are the requirements for admission as a transfer student?
The minimum GPA required for admission into Indiana Tech is a 2.0.  Some academic programs require higher GPA requirements, so you are welcome to contact the transfer counselor for additional information on the GPA required for your academic program of choice.
Am I required to live on campus as a transfer student?
Transfer students, outside of a 50-mile radius of campus who are under the age of 21 or have earned less than 60 college credits, are required to live on campus.
What housing options are available for transfer students?
Transfer students with two or more semesters of attendance at another college are typically placed, based on availability, with non-freshman students in our apartment-style facilities.  Placement isn't automatically guaranteed, but preference is given towards the apartment-style facilities.
For more information